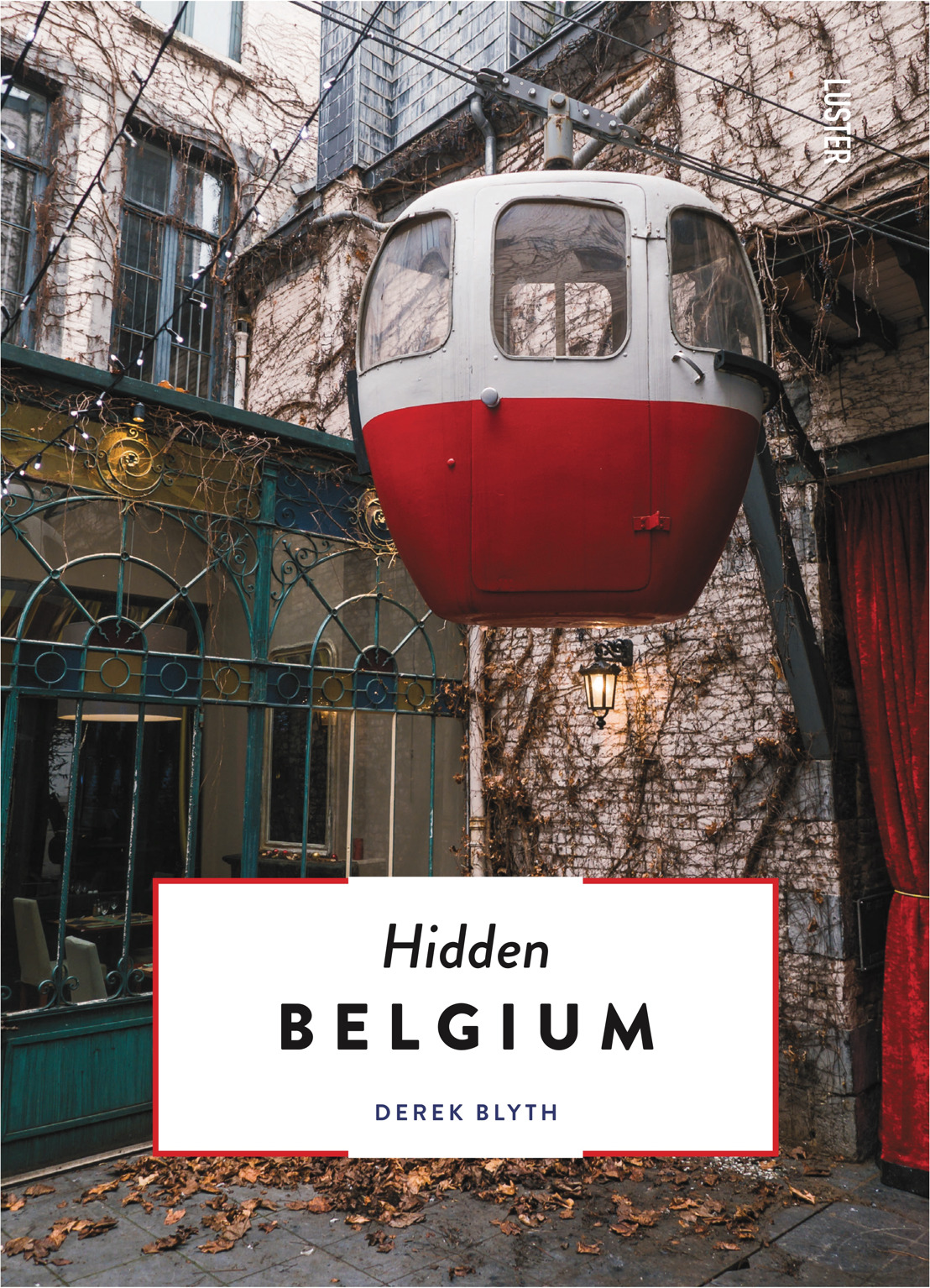 Publishing house Luster unveils 'Hidden Belgium'
The first title in a new hidden-series about countries and regions
Monday, April 16, 2018 — Publishing house Luster launches 'Hidden Belgium', a book that by analogy with the successful series '500 Hidden Secrets of...', unveils special and unknown places in Belgium. The book is written by journalist Derek Blyth, born in the U.K. but living in Belgium for over 25 years. This brand new guide is his personal ode to the most beautiful and intriguing spots in what he calls 'the world's strangest country'. Hidden Belgium is in stores mid April.
______________________________________________________________________________________________
PRESS EVENT I On Thursday April 19, Derek will officially present the book to the press with a Hidden Belgium tour of some of Brussels' best kept secrets. The private tour leaves the Victor Bozar Café (Bozar) at 11 AM and ends around noon. Confirm your presence via lies@vonyellow.be.
______________________________________________________________________________________________
About the book
Hidden Belgium is an alternative guidebook that aims to inspire you with stories of more than 300 curious and unexpected places to visit. It takes you off the beaten track to look at sites most people don't know about, such as the tiny Belgian village where Hitler commanded the invasion of France, the ghost railway stations of Brussels and the eccentric grotto in an Ardennes village dedicated to the patron saint of lost things.
The aim is to awaken your senses, revive your curiosity and take you to places with a story to tell. You might be inspired to visit a small town that was once an independent country, wander through a garden dedicated to unpleasant smells, or eat lunch in a former science lab.
Some people argue that Belgium is a boring country, but this book sets out to prove that it is in fact one of the most interesting countries in Europe. It has a rich history, a stunning range of architectural styles and some fabulous places to spend a night.
This is meant to be a book to pick up for inspiration on a rainy afternoon. It is meant for adventurous travellers, urban explorers and anyone who believes the world is still full of curious and forgotten places waiting to be discovered.
The book consists of 11 chapters (Hidden Art, Hidden History, Hidden Buildings, Hidden Experiences, Hidden Food….) and each chapter contains several lists with up to 10 addresses that can be described in 60 to 250 words.
For example
Inspiring tram and metro trips such as the M1 metro line in Charleroi that takes you along a fascinating and deserted urban landscape consisting of abandoned factories and piles of rocks, or line 44 to Tervuren, which is known as one of the loveliest tramrides in the world.
Unusual bedrooms to spend the night in, like the one in Het Houten Paard in Heyd (Luxembourg) or the creation of Joep Van Lieshout at the Verbeke Foundation in Kemzeke.
Romantic cemeteries like the one at the Dieweg in Brussels or the cemetery of the psychiatric hospital in Oud-Rekem.
Cool bike rides like the Vennbahn Cycle Trails in the Ardennes or the tour through the port of Antwerp.
Unusual stairs like the Vlooybergtoren in Tielt-Winge or the escalators of the MAS.
Uncommon eating at Gaarkeuken 110 in Antwerp or at Labo 4 in Liege.
Exceptional Architecture such as Cité Miroir in Liege or Square Coghen in Brussels.
Peculiar Churches like Reading Between the Lines in Borgloon or the Oosterweel chuch in the port of Antwerp.
Curious follies like the abandoned Boeing 707 on the roof of a transit warehouse in Wetteren or the Eben-Ezer tower in Eben-Emael.
About the autor
Derek Blyth has lived in Belgium for more than 25 years. Working as a journalist, he knows the country intimately and has explored almost every corner, from the small beach towns on the North Sea to the sleepy villages deep in the Ardennes. Formerly editor-in-chief of The Bulletin magazine, he has written countless articles and several books on Belgium, including the bestselling The 500 Hidden Secrets of Brussels, Ghent and Antwerp. He also organises walking tours and lectures in Brussels, Antwerp and Ghent.
In this book he shares secrets such as:
3 weird rocky outcrops
the 3 most dreamy castles to visit
4 places to see eccentric art
the 6 most bizzare buildings
5 adventurous Ardennes hikes
and much more
______________________________________________________________________________________________
Hidden Belgium
Derek Blyth
Photography Roel Hendrickx e.a.
April 2018
Paperback 13 x 18,5 cm
ca. 256 p.
ISBN 9789460582141
NUR 510, 511
English
€ 19,95
______________________________________________________________________________________________
Contact lies@vonyellow.be for more information, visuals and/or an interview.