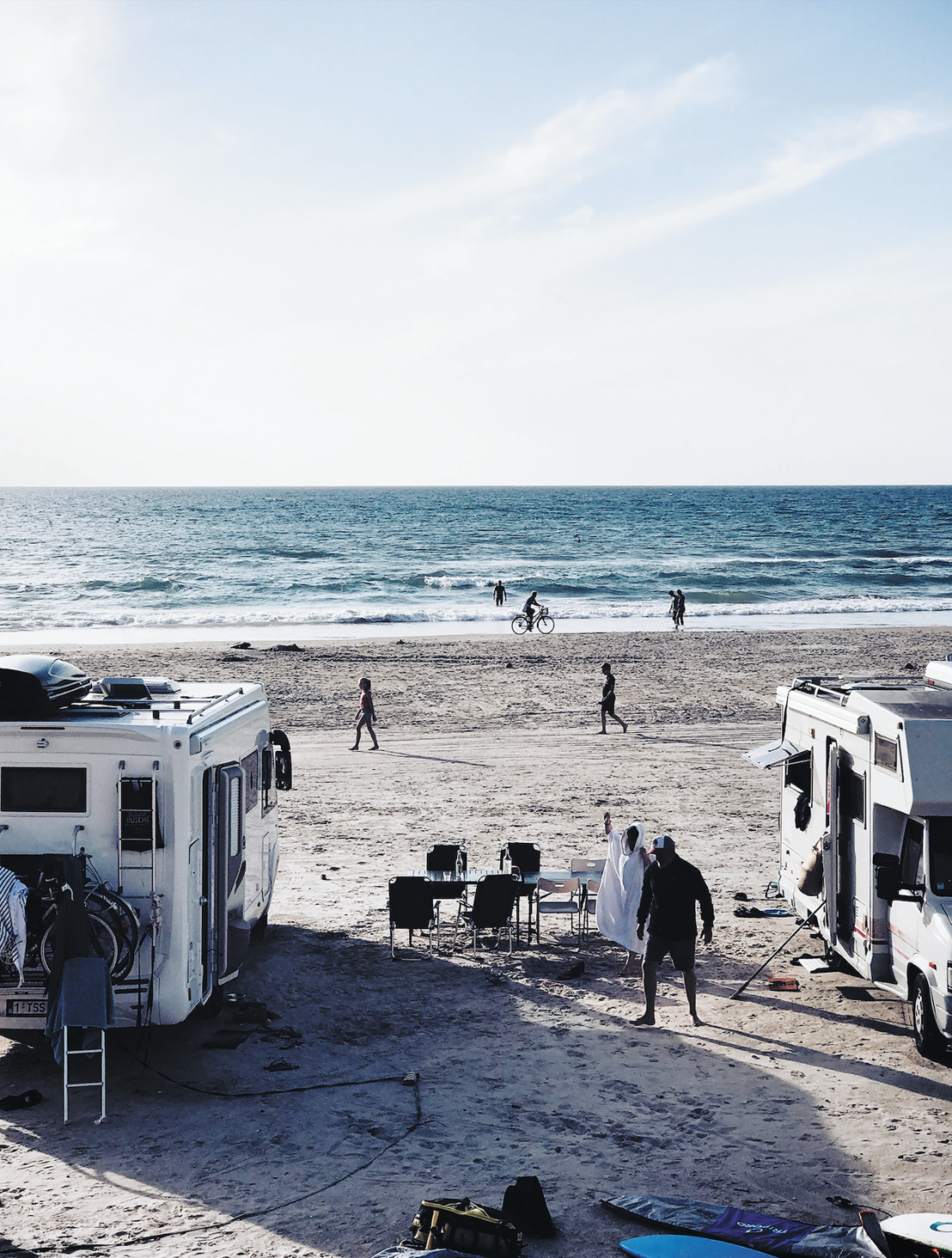 Publishing house Luster presents : Camper Food & Stories
Recipes, travel tips and dreamy images from the life of a happy camper
Wednesday, March 3, 2021 — Camper Food & Stories is the result of food stylist Els and food photographer Bram's shared passion for camper van travelling and slow cooking. It's an ode to life on the road as well as to good, pure and flavourful food. With this book you'll travel from the Black Forest to Denmark and from Cornwall to the Balkans. You'll discover the most beautiful unspoilt places in Belgium and the Netherlands, and you'll be inspired by the wonderful, dreamy travel photos and personal stories. It's a cookbook with countless recipes and tricks to cook delicious food when you're travelling with the camper, in all seasons and with local ingredients. But their book is so much more than that: the beautiful photos capture the imagination and the personal stories bring the wonderful feeling of being free on the road really close. Camper Food & Stories is in bookstores starting March 30.
Camperfood & stories is divided into different regions in Europe. For each region, Els introduces a route and a series of delicious and feasible recipes for the road, with local ingredients, like fire-baked veggies with yoghurt and mint, heart-warming slow-cooked stews, barbecued shellfish or easy and healthy breakfasts. Of course, these camper recipes are perfect for cooking at home too, with the added bonus of feeling like you're on vacation.
"I really enjoy shopping in a local food store or at an outdoor market. There's just something inexplicably pleasant about grocery shopping abroad and then returning 'home' to your van, where you can light the barbecue or make a wood fire and start cutting some veggies. Preferably with the cutting board on your lap and your bare feet in the grass or the sand. Imagine this scene with your favourite music playing in the background, in the company of your favourite people (or your favourite dog): perfection.

But what to cook on those two or three burners in your camper van kitchen? You can't have pasta every day. This book is here to provide the answer to the most important question campers ask themselves daily: what's for dinner?

For this book we picked a few regions we visited on our camper van trips : six beautiful areas and countries we fell in love with. All of these places have incredible landscapes that are inhabited by wonderful people, who rightly pride themselves on their delicious local food specialities. For each of these regions I selected a number of quick and easy recipes to prepare a tasty meal with local ingredients. Sometimes these are traditional dishes, the way the locals like them, sometimes I've added a personal or more modern touch."
Moreover, you get a nice overview of the absolute go to's by region or route: the most beautiful beaches, the most dreamy viewpoints, the towns to visit, markets, ...
At the front of the book you get some practical tips: where to camp or not, how to leave on your camping trip without stress, what to pack,... some handy lists with small camper hacks that Els has experienced on her many campervan trips that make life on the road just that little bit easier.
Spread throughout the book you will get to know some real camper people that the author has met on her travels.
Camper people : who are they, what do they do, and above all: why?
In this book you will get to know a few specimens of this species better.
Freedom, simplicity and togetherness: that's what life is all about according to happy campers Els Sirejacob and Bram Debaenst. Those values are the reason why they love the camper van life so much; they're also qualities you'll recognise in Els and Bram's work as a food stylist and food photographer.
As a food stylist, Els Sirejacob knows how to bring food to life. She cooks, writes recipes, and is passionate about vegetables, nature, and freedom. That's why she's always looking forward to the next road trip with her family. The love for the camper van lifestyle is one of the things she has in common with her colleague and food photographer Bram Debaenst; together they work on food projects for commercial clients as well as for lifestyle publications.
CAMPERFOOD & STORIES
author ELS SIREJACOB
photography BRAM DEBAENST
will be published 30 March 2021
finishing Softcover
format 19,5 × 25 cm
pages ca. 240
ISBN 9789460582691
nur 500, 440
language English
price € 25